Tower defense games are a fun way to test your strategic skills and are ideal for those who love to plan, implement, sit tight and defend. Here are the top tower defense games that you can try.
Survival Arena is a feature-rich tower defense game. It is unique compared to traditional game of the same genre. You can raise powerful towers, upgrade them, and build your defense against armies of endless incoming enemies. Or you can play against other player in dozens of tournaments. The game boasts high quality graphic which makes it a bonus point to immerse in an endless defense.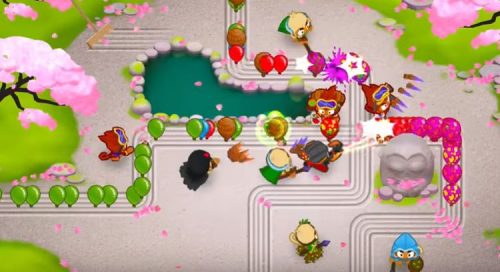 The Bloons TD tower defense series' latest entry, Bloons TD 6, is back and better than ever. The game provides a massive 3D tower defense game designed to give you hours and hours of the best strategy gaming available. Bloons TD features new monkey animations and upgrade skins, better visual effects in 20 original maps.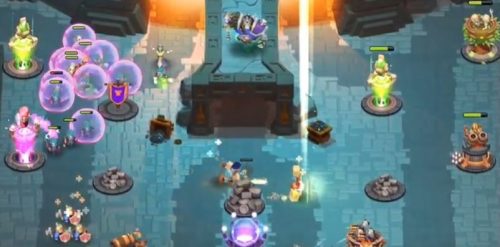 Castle Creeps is a good tower defense with many enhanced old elements and new ones. The game has beautiful cartoonized graphics with high details of towers, monsters and heroes. You will build towers and control heroes to defend against the orcs. Resources are earned after missions for making your defend stronger.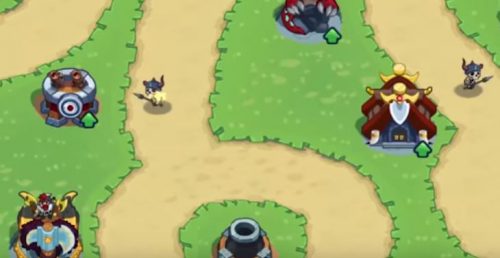 Legends TD is quite a challenging tower defense game.  The game features over 40 levels in different region, from lush forests to snow covered mountains, and a huge variety of enemies such as slimes, skeletons, goblins. You can summon heroes in battles to stop waves of enemies from advancing toward your base.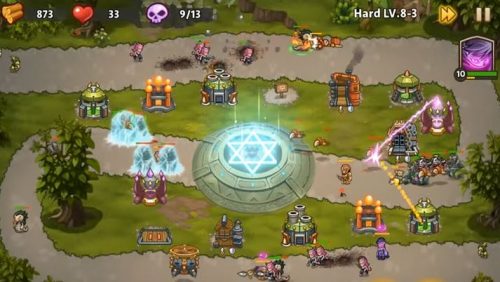 Castle Defense 2 unleashes a new era of war. It's a tower defense masterpiece game that has swept the tower defense world by combining the traditional TD gameplay with RPG elements. With all-new Battle Pets, this game creates a fusion of tower defense and strategy that is immersive and addictive. The player has to resist the wave of enemy attacks by developing defense strategies and placing defense towers as well as utilizing the attack skills of powerful heroes.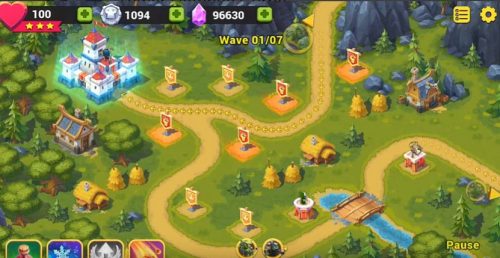 In Toy Defense: Fantasy Tower, you'll have to recruit warriors, wizards, healers and elves of your kingdom and train them to create a powerful army and fight your enemies. Use the power of magic to defend the castle and exhibit your courage by driving the vile monsters away from your magical kingdom. You can also raise the stakes by taking part in the Tournament Mode and beat your friends to win grand prizes. With this tower defense game, you have to be the best at strategy if you're to prevail.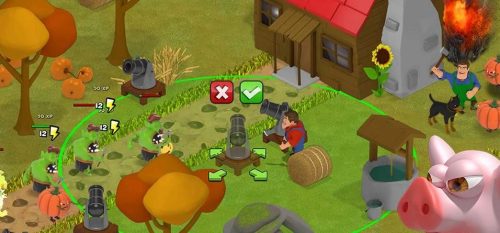 In Battle Bros, you'll have to take on hordes of minions using real-time multiplayer co-operation gameplay. You can fight alongside the players from all over the world or invite your friends to defend the land against hordes of evil minions that are controlled by the cunning and wicked Evil Corp.
It's a never-ending, fast-paced strategy and survival game in which you can progress and discover new strategies and powerful enemies to take on. Use different tactics to beat them and enjoy the intense gameplay.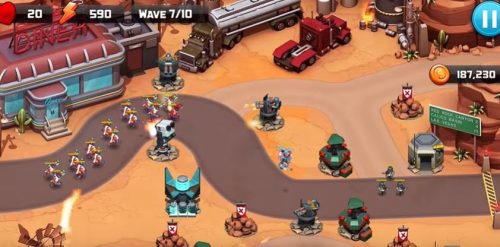 In this game, the stakes are higher than any other tower defense game. You don't have to defend a castle but the entire earth from war-waging aliens that are invading the earth. It features epic battles, hordes of devious aliens, lightning bolts and explosions, helicopters, powerful towers and much more. You can plan your defense strategy, upgrade your weaponry and get in on the action.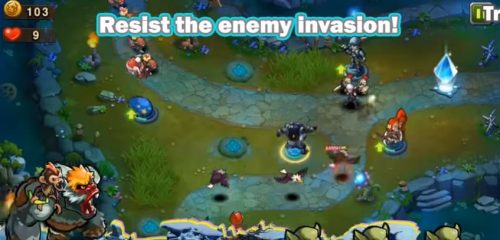 Magic Rush is a very popular title in which you get to assemble your league of heroes and head into epic head-to-head battles that combine all the elements of tower defense, RPG, and base-building games. It features a captivating single player story campaign, online battles, and daily quests, so there's never a dull moment with Magic Rush.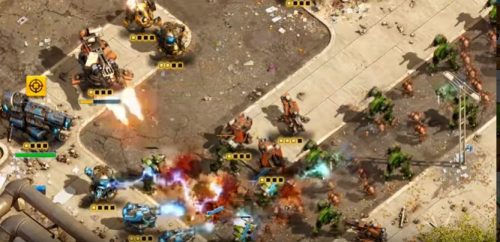 It's the sequel to the popular Epic War: Tower Defense that was downloaded by millions of users. Be prepared to get thrown into pure and epic tower defense battles. It's all about strategy, epic battles, and mass destruction with this game. It features nine high-power towers, two mega towers, fifty missions, forty-four enemies and more than hundred hours of unique gameplay.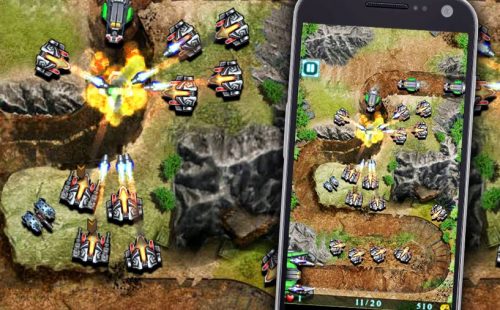 You may have played tons of tower defense games, but Galaxy Defense is still going to impress you with its tons of challenging maps, each of which has its own unique setting that will test your skills in a new way. Galaxy Defense features an old-school design but with captivating new missions. With over 21 maps and missions, 16 unique towers, and enemy units, there's no way you're getting bored of this one anytime soon.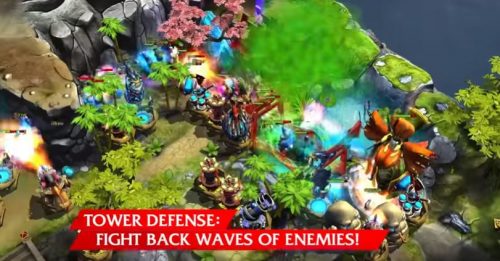 In the game of Defenders, you'll enter the Prime's World of Universe and destroy the countless enemies that you face using your towers and magical skills. You can make your unique cards collection and fuse the towers to make them even stronger and more powerful. Enhance your heroes, improve your skills, and make your spells better. With the Heroic Mode, you will be tested to become the greatest Defender of all time.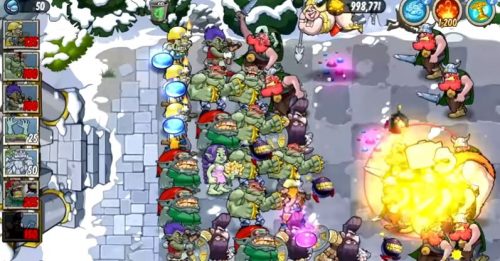 This unique strategy game pits magical creatures and peaceful Trolls against the legendary Vikings and their gods. It's an epic battle in a mythical world filled with loads of magical elements. With seventy story levels, twenty hours of gameplay, and more than forty wonderful characters, you're in for a treat. Take on the massive boss fights and battle Thor, Odin, and other Norse gods.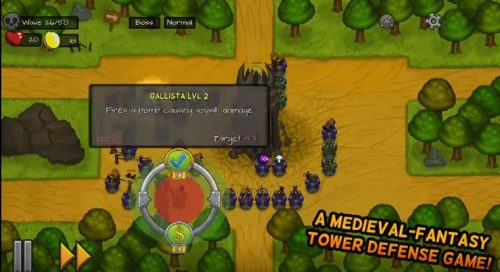 Age of Thrones is a fun-filled tower defense game with medieval fantasy elements developed by Nexrage, a team known for developing superb indie games. In the game, you'll be taking on enemies such as orcs, trolls, dragons, undead creatures and many other dark forces. The ultimate goal? Save the Armos kingdom by defeating the Dark Lord of the Thrones.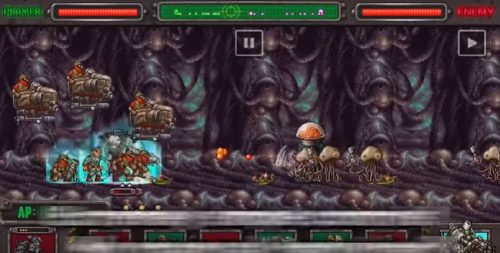 Metal Slug, the legendary 2D action shooting game by NEOGEO, returns as a tower defense and strategy game on the Android OS. Your task is to command the troops so that you can seize the throne and become the best Metal Slug player in the world. Send your units to battle and take control of the enemy bases to prove your worth in this defense and strategy game that is filled with the classic arcade elements of Metal Slug.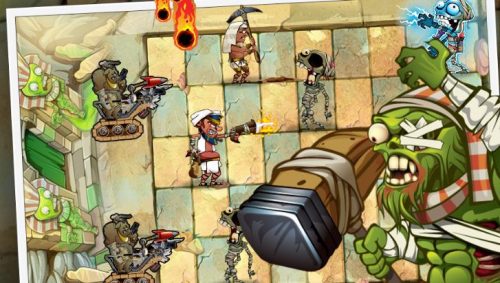 This is the ultimate battle, the only battle that matters: alive humans taking on the undead zombies. The war between the two forces of life and death wages on in this superb action and strategy game. Many heroes have fallen, but you survive and all you have to do is defend your community from the deadly invasion of zombies that are threatening to bring your peaceful community down. It is an epic combination of tower defense and zombie apocalypse gameplay elements.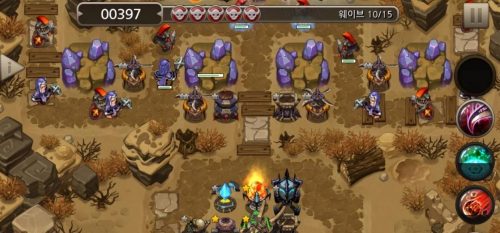 In the sequel to the game Lich Defense, you have to be the Lich King and manage your deadly defense towers. You can cast devastating magic spells in this addictive strategy TD game that features an immersive gameplay and interesting characters. Your characters grow in RPG style and have an engaging backstory. The three different skills of Arcane, Darkness and Elemental only make this game richer and more interesting.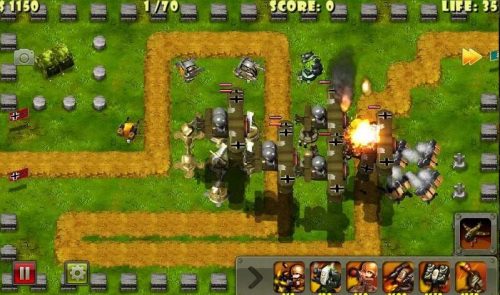 This game gives you the role of a Little Commander who is the acting commander of a small troop of soldiers. Your task is to take on the waves of enemies, improve your strategy, and fulfill the duties of a commander. With six different upgradable turrets, your main task is to place them strategically in the enemy's path to block them effectively.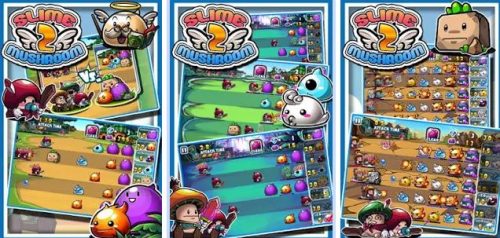 The war between slimes and mushroom has been going on for a while now and they have developed the skills to cope with it. In this game, you're going to be the leader of the Slime tribe and improve their position in the war against Mushrooms. The main goal of the game is to test your capabilities i.e. whether you can place the various slimes in strategic positions to win the battle against the mushrooms.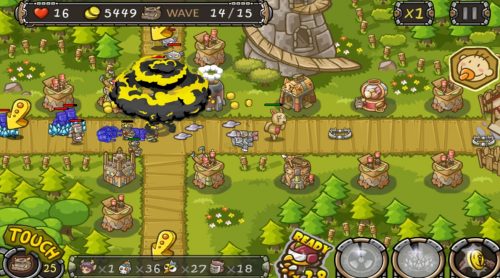 Toy Defender is a unique game that is not just another regular TD game. You'll get to build useful paths to upgrade your towers and skills and battle through six different areas with increasing difficulties. It's a game with charming graphics, unique upgrades, different towers, powerful skills and a monster dictionary.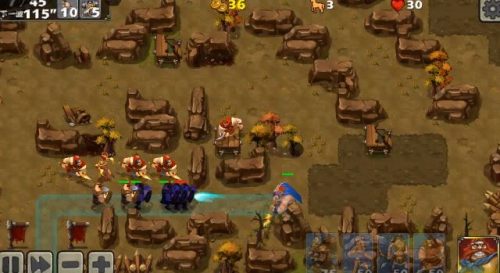 Empire Defense 2 is a tower defense game based on the Three Kingdoms and has been played by thousands of players already. It is a creative game that focuses on your commandeering skills and how you choose to defend your empire against the threats posing from all directions.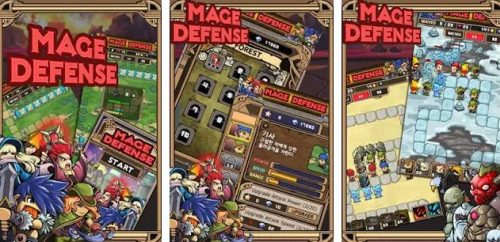 Mage defense is a typical TOWER DEFENSE game, to protect the Mage castle from evil monsters by placing various mages with their capabilities in best strategic positions. The mage castle faced big crisis because monsters from devildom invaded into the castle. Please protect the castle from monsters by employing various mages outside of the castle. Don't pass many monsters, or you will lose the game.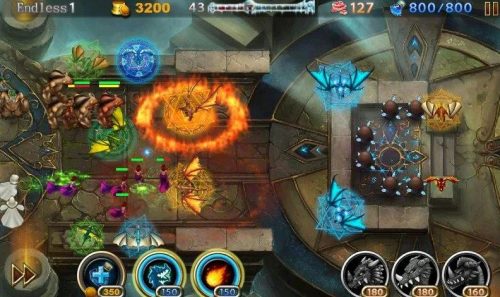 Greedy humans are invading dragon's world again! They're well armed, and will not stop until they destory dragon's world. Dragons are angry, and it's time for them to fight back! They are familar with the map, they are well trained, and they are ready for the battle. It's time for YOU to choose smart tactics to defeat greedy humans!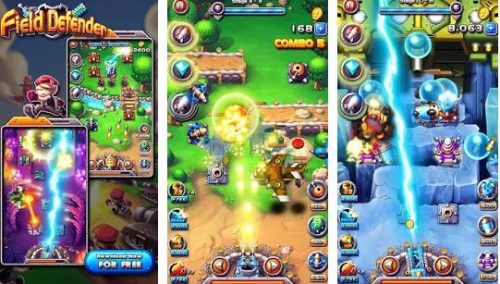 Field Defender, the HIT field defense game is coming to Google Play now. Waves of enemy army troops are attacking your field. They send out land forces, air forces, armored forces, even the powerful aircraft carrier. However, As the last defensive line, you are more powerful than ever before! What's more, powerful weapons, air umbrella, various upgradeable towers will fight together with you!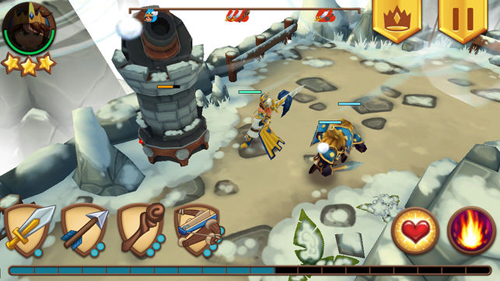 Royal Revolt is a brand new reverse T-defense game with beautiful 3D graphics and intuitive touch controls! Lead your soldiers to victory against your greedy relatives who have stolen your father's throne. You are a young Prince, sent by your father to learn magic at Bogsmarts, a boarding school for the spoiled and untalented aristocrat youth. You sell your jeweled teddy bear, collect a few trusty soldiers and set out to KICK THE GREEDY BUSTARDS out of their castles.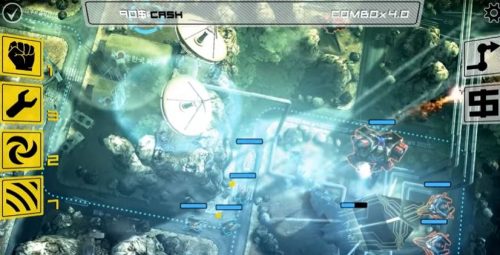 The alien robots are back and this time they've got Korea in their sights. It's your job to lead a squad into fierce fire-fights and fend off the alien invasion. Plan your routes carefully and use new units and powers to turn the tide of war against a horde of new enemy threats. Flipping the tower defense genre on its head, you play the invaders leading your unit into alien-infested districts. Plan carefully, use your money and powers wisely, and make it through unscathed.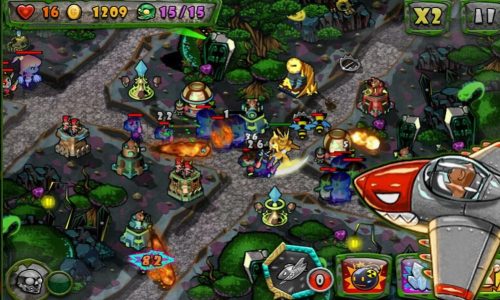 Zombies vs Toys is so much different to regular tower defense games. Build the most useful path to the stage by gaining block points, you can upgrade your tower and skills.
Battle through 7 areas with 2 different modes. (easy, normal).
Features: 7 areas, over 50 stages, more than 30 kinds of creepy Zombies, 5 kinds of towers with Toys & Ultimate tower, and 3 global skills are more useful than tower.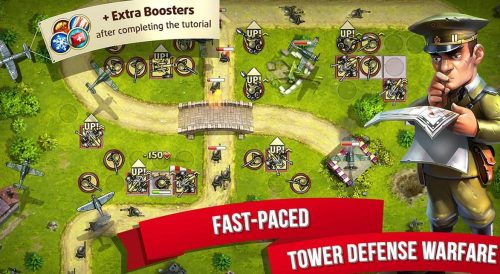 It is the latest game from the intensely popular Toy Defense series. It is a remarkable castle defense game with decent graphics, so it will make you stick to your Android device wherever you go. To beat the game, you will have to complete about 240 missions. There are a lot of upgradeable towers which you can use. That's not all; you can also enjoy PvP modes and several tournaments.
Old Tower Defense Games
The Bot Squad: Puzzle Battles
Bot Squad is a game that combines strategy and puzzle to give an interesting new game. Developed by Ubisoft, this game combines the classic puzzle and TD gameplay to bring you fun new challenges. You can combine your bots' unique gifts to navigate the trap-ridden areas and defend your energy against waves of ravenous enemies. With four different strategic puzzle modes, you can challenge your puzzle-solving and tower defense skills.
Corn Quest
Corn Quest is a fresh new approach to tower defense. Your vulnerable cornfields are being attacked by armies of mutant bugs, and you have been chosen to be the protector of the cornfield. You'll have to track down the root of the invasion and lead your army against the mutant bugs. This game is a unique approach to tower defense and a farm-fresh take on TD games with its beautiful environment and unique power-ups.
Carnival of Horrors Lite
Ghost Catcher: Carnival of Horrors is a game that follows the trend set by other popular TD games such as Plants vs. Zombies. You can play dozens of addictive game levels in which dozens of monsters and weapons will keep you intrigued and entertained for hours. You have been tasked by the owner of a prestigious seaside carnival to clear out the park that is overrun by ghosts. It's your job to clear these ghosts out and return the park to its splendor.
Animal's Jewel
Both adults and children can play a game designed for people of every age group, Animal's Jewel. The goal of this TD game is to place all the animals strategically so that you can defend all the jewels that are being targeted by the alien invaders. It's a unique and fresh idea, and the game features seventeen animals, each with unique abilities and characteristics. The game offers an interesting and unique gameplay that everyone can enjoy.
Doodle Defense
Doodle Defense is an interesting and challenging TD game in which your role is that of a painter, but your paintings have come to life, so you have to defend the world by keeping them inside your canvas. How will you do that? By drawing towers to attack them. Featuring immersive graphics and lots of maps, enemies, and tower types, this is a fun game for all TD lovers. Features: cute Graphics, 37 Maps, 27 Different enemies, 6 Tower Types (2 unlockable) and many more.
Paper Defense
Paper Defense is a game filled with all sorts of enemies and fun levels. It's a game for children as well as for adults. The goal of the game is to collect all 108 stars to unlock the secret unbeatable level. It's a very challenging TD game that will certainly test your gaming skills to the max.
Battle Mushrooms
Battle Mushrooms is a tower defense game that has a unique and interesting concept. After decades of peace, the defenseless mushrooms are being attacked by evil mechanoids. They call upon the powers of ancient magic to resist the onslaught of invaders and defend their planet. A game with an interesting premise and immersive gameplay, Battle Mushrooms is ideal for TD lovers.
Battle Towers
In the game Battle Towers, your success depends on balance and timing of your crucial actions. Your task is to conquer the land and take on your enemies in more than 40 battles. Each battle features a detailed environment, adjustable difficulty, and unique missions to complete.
Tower Storm
Tower Storm lets you command armies of marines and orcs and take control of enemy towers to bring victory. It's your time to build a new empire from the ashes of the old world. With forty unique levels and hundreds of towers, there's never a dull moment. You can perfect your tactical skills and progress through Tower Storm.
Features:
• Capture hundreds of towers in 40 unique levels!
• Perfect your tactical skills with 13 different game modes!
• Develop 30 amazing perks through laboratory!
• Win battles, break blockades, fight bosses and outwit your enemy!
• Hot deserts, snow-covered glaciers, picturesque meadows and even volcano crater!
• Collect 30 achievements and become the greatest tower storm player ever!
Castle Defense 2
Castle Defense is a medieval tower defense game in which your main goal is to place your defense towers strategically in order to stop the enemies from stealing your precious goal. The game starts with a few peasants attacking with pitchforks, but as the difficulty increases, you'll be facing knights, ravens, dragons and horses, so the real fun takes place in the later levels.
Zion Tower Defense Free
Zion Defense is an amazing action-packed tower defense game that incorporates RTS elements, developed by Play Today. In this game, an army of sentient machines has infiltrated the last stronghold of the humans of Zion. They are trying to destroy the power generators to disable the defense, so your goal is to build units and fight off the invading machines.
Anger B.C. TD
Anger BC Tower Defense is a fun strategy game featuring 3D scenes and HD graphics. The game focuses on heroes leading the warriors in order to fight the evil monsters and protect the precious stone. It's a game featuring a beautiful and unique world in which you have to utilize heroes, magical powers, and warriors to prove your tactical skills and wisdom and defend the precious stone.
Devils at the Gate
Devils at the Gate:Total Resistance is a Tower Defense game based on a war scenario between the Patriots and the Devils. Game characters are witty, and pictures are exquisite. What has made this game even remarkable is that this game uses different perspectives effect, an unprecedented innovation to TD game in the market.
Total Defense 3D
Total Defense 3D brings a whole new level of action to Android defense games. This state of the art strategy will unleash a cascade of new RTS and RPG features as you drown in the intensive battles across the unknown universe! Combat & conquer planets, raise towers and erase alien monuments, repel enemy legions, advance technologies, mine resources and even destroy enemy passageways – adopt your own strategy.
Four Days: World Defense
Defend your world against an alien onslaught spanning a dozen battle zones across four days of combat, each more difficult than the one before. With a complete arsenal of towers to build and upgrade, you must shape the invaders' paths across the battle grid and eliminate them before they breach the containment zone. Unleash the power of 5 activated abilities to destroy your enemies, raining destruction down upon them in stunning 3D graphics! With every defeated invader, you'll acquire Tech Points that can be used to permanently upgrade your towers, unlock new abilities, and activate power-ups.
GotchaWarriorsX
The "GotchaWarriors" are special warriors from all over the world and they are at your disposal. Use them to protect the city from the crazy doctor bent on world domination.
Your enemy is Dr. Strange Love. He is using an army of modified zombies to take over your town, and then take over the world. You are the only one who can stop him. You are in command of an army of your own. Your army is made up of special warriors from all over the world. You must expand and enhance your army to halt the doctor's plans.
League of Hero Defenders
The League of Hero Defenders is a defense game that brings a league of famous heroes to you. Instead of controlled dull towers, you'll be fighting with lively heroes. You can fight against monsters with your heroes and immerse yourself in the beautiful gameplay. It's a whole new experience when it comes to defense strategy games thanks to its beautiful anime style.
Yeti on Furry
Unleash the yeti's fury on completely crazy climbers in a hilarious tower defense in 3D… and fur. Confront an onslaught of insane climbers – from the most stupid to the most vicious – all of whom have special tricks for reaching the top of the mountain: tunnels, ziplines, even teleporters!
With simplified touch gameplay, use your incredible super powers to defend your lair from the climbers! Sneezing, triangle concert or the Yeti's fist of vengeance: no holds barred!